How to Order from iHerb and Get Money-Saving Tips!
Last updated: DECEMBER 1, 2016.
I have ordered from iHerb.com numerous times. Every order has arrived quite fast and well-packaged. With the prices being so low you might get hooked easily. If you are unfamiliar with iHerb.com, it is an online shopping site that sells a wide range of supplements, beauty & bath products, and even groceries, baby care products and pet foods. The online store has been voted as the top online supplement retailer in surveys conducted by ConsumerLab.com in the last eight years (2008 to 2015).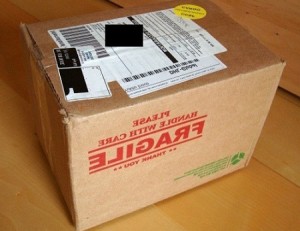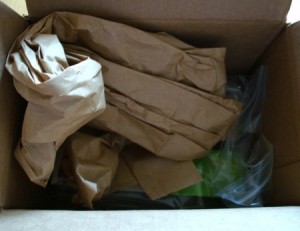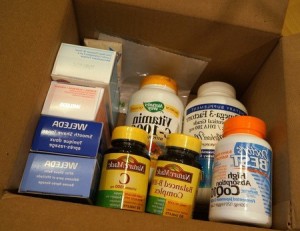 In order to shop on iHerb, you'll need to create an account. This only takes a few second, and you'll be filling your cart before you know it. See Step 1 below to learn how.
STEP 1 : Creating an iHerb Account
1. Visit the iHerb homepage. To order anything on iHerb, you will need to create an account.
Hover over "My Account", located to the upper right corner of the iHerb homepage, and click the "My Account" link. This will open the Registration page.

Or simply clicking the link below and you will be taken to the Registration page and the special discount code for 10% off will be automatically added to the shopping cart.
https://www.iherb.com/account/login
2. Fill out the registration form. On the right side (New Customer), choose "I'd like to register for an account." You will need to enter your email address and create a password. Once you fill out the form, you will be taken to your profile page. You are now ready to shop! Proceed to the next step to start filling up your shopping cart.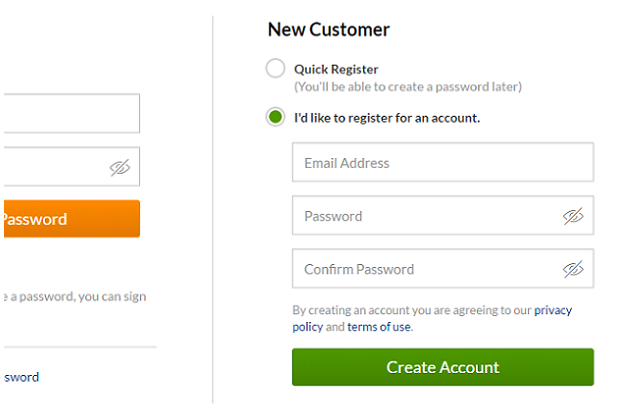 STEP 2 : Finding an item
1. Use the search box. The quickest way to find a product is to use the search bar, especially if you know exactly what you want. To search, simply type a product name or brand name in the box and click the magnifying glass button. The search bar will attempt to match products as your search, which means suggestions related to the term you've typed will be automatically displayed below the search box. You can click on any of the suggestions.

Below is how the search results for multivitamin would look like. When you click an item, you will find useful information about the product. You can click the "Visit our Multivitamins page" link to see all the Multivitamins on iHerb. You can refine the search results by clicking the link on the left side of the page. You can also sort items by clicking the link in the "sort by" box on the right side of the page.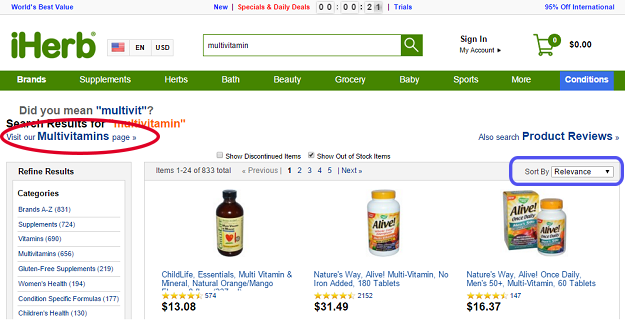 2. Click "Add to Cart". You can set the quantity for many items if you wish to order more than one.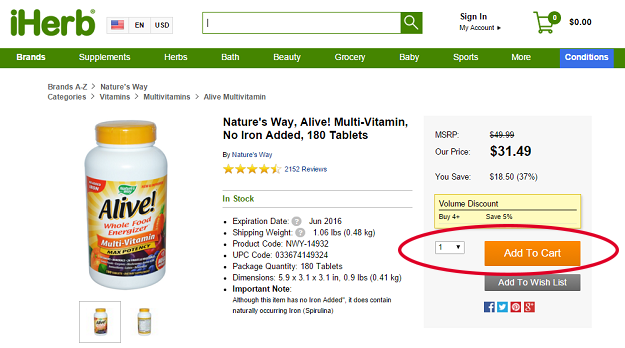 Every time you add an item to the cart, you will be asked if you want to view/edit cart or checkout. To continue shopping, use the search box just like the previous step.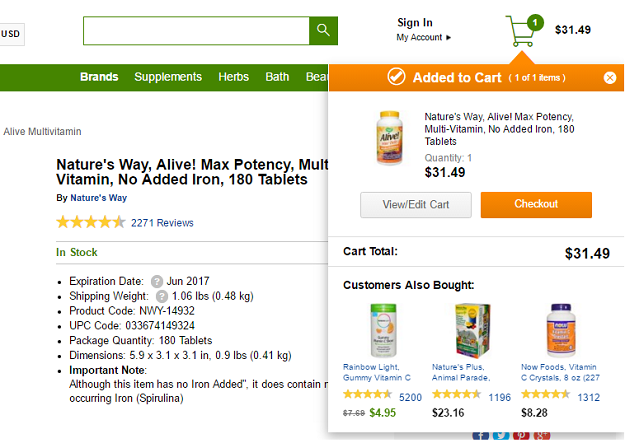 STEP 3 : Checking Out
1. Review your cart.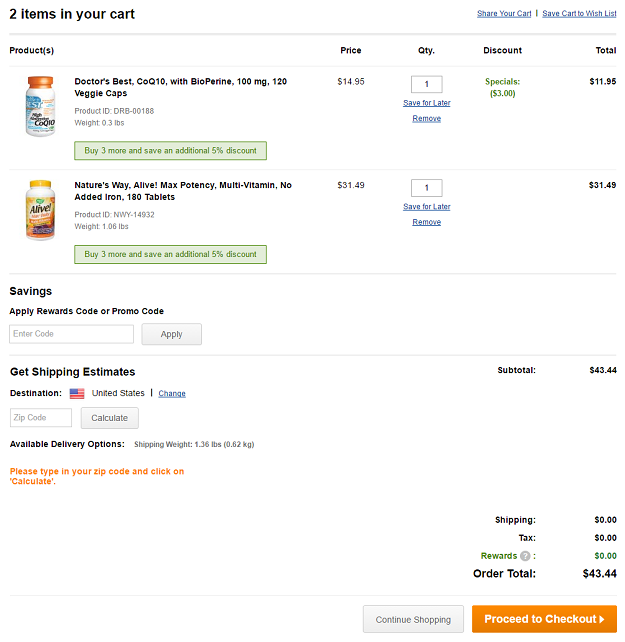 You can remove any item in the cart by clicking on the "Remove" button.

If you want to change the quantity for the item, you can type new values in the "Quantity" box and click "Update"

Tips: Items that are close to their expiration dates can be purchased in a very good discount. They're usually below 12 months to their expiry date. If you don't care about the shorter usage period, you can get quite a good bargain. >> Check out short dated products here
Every time you order, you are also allowed to buy selected items at trial price. You can get pretty steep discounts in this way. But there is a restriction. You can buy only one unit of a product at trial price and for once only. That means, you pay the regular price for the second unit and also the next time you order the same product again. >> Check out selected products here
2. Apply iHerb coupon codes.
Simply CLICK HERE and the coupon code will be immediately added to the shopping cart.
If you did not see the first-time customer discount in your shopping cart. There will be a box below the items in your shopping cart that allows you to enter in the iHerb coupon codes.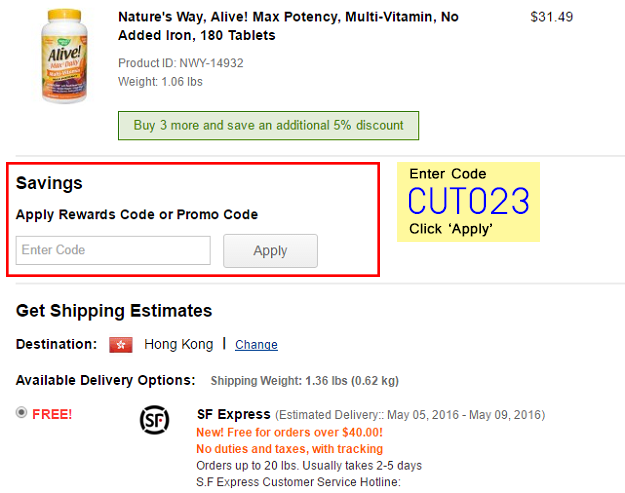 You can apply the code manually by typing CUT023 into the "Apply Rewards Code or Promo Code" field , then click on "Apply" button beside it.
Check whether the coupon code has been applied to your order. If yes, you should see " CUT023 – Save 10% – First-time customers only."

NOTE: All the iHerb Coupon codes have the same discount and will only work for first-time customer.
3. Choose your shipping options and click "Proceed to Checkout". Select the country you wish to deliver the order to from the drop-down menu. Then, click the "Calculate" button:

There are several shipping options depending on the country you have selected. Shipping within the US is very competitive. You'll get free shipping and zero sales tax on US orders over $20.00.
iHerb offers the cheapest international shipping. If you live outside the U.S., I recommend you choose "Airmail" as your shipping method because it is reliable and cheap and this option applies to orders valued up to $100.00 and weighing no more than 4 lbs. If your order exceeds the 4 lbs limit for delivery via "Airmail", you could either split your order, or use an alternative courier service. It usually takes one week or more to receive your package via this option.
There are other shipping options such as DHL, UPS, and much more for different countries. Each country has different laws and regulations about buying products from other countries. iHerb will give you useful information when you choose your shipping country.
Tips for shipping to Japan: If your order value exceeds 16500 Yen, you will be charged for Customs duty and taxes. The balance order value needs to be less than 16500 Yen to avoid customs fees.
Tips for shipping to UK (Great Britain): Keep the cost of the contents under £15 and you will never have to pay customs charges. Regular order over £15 will attract Royal Mails attention. You can challenge Royal Mail if you feel they are not correct.
Different shipping choices will affect the final total, which is reflected in the box on the right. Once you are done, click the "Proceed to Checkout" button as highlighted below: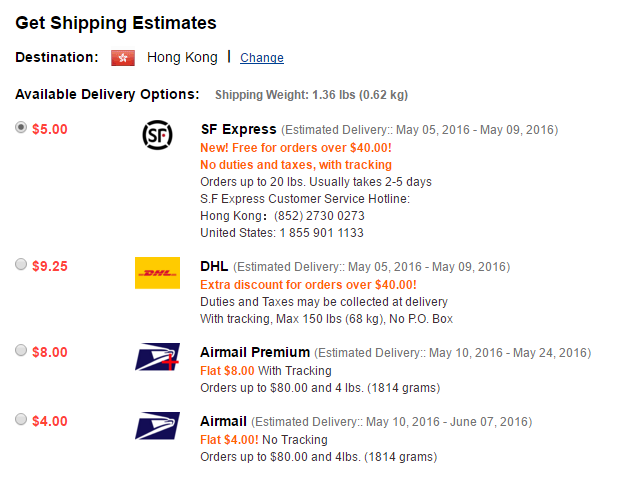 4. Sign in to Your Account. On the left side (Returning Customer), Enter your email address and password that you have used to register with iHerb.com. Then click "Sign In with Password"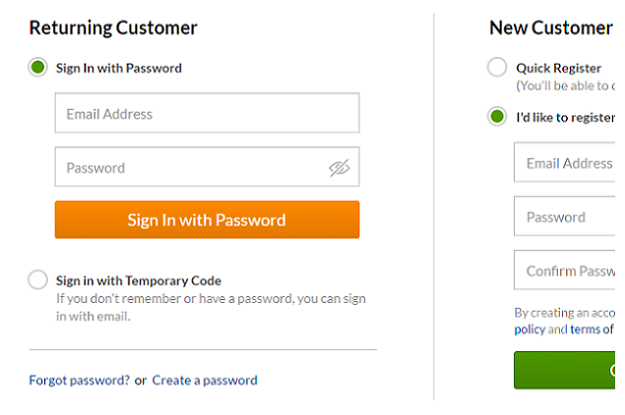 5. Add your shipping information. Make sure your shipping details and phone number are correct. If you choose to deliver by DHL or UPS, the courier service may call you if it has any problem delivering your order. Click "Next" to proceed to payment.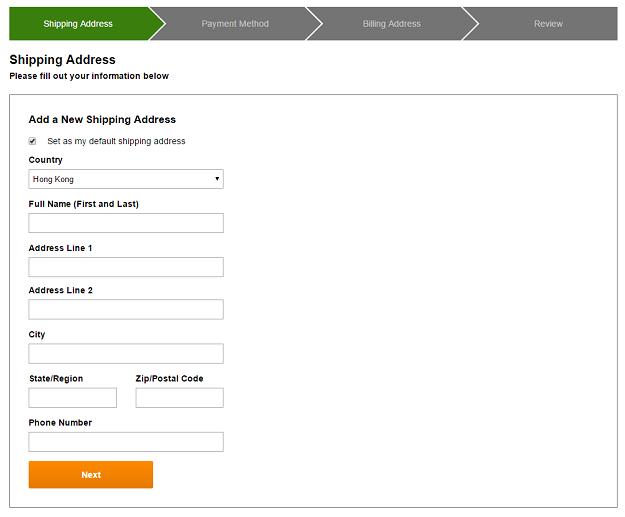 6. Add your payment details. Fill out the required information. iHerb accept credit cards or debit cards. You will need to enter the card number without spaces or dashes, expiration date, name on card, and security code.
The Security Code is the last 3-digit found in the Signature Panel on the back of your card.
iHerb uses the very latest, industry standard, 256-bit encryption-secure software to protect your information. For security purposes, iHerb may ask for more information to verify that you are the credit/debit card account holder via email.
PayPal is also accepted by iHerb.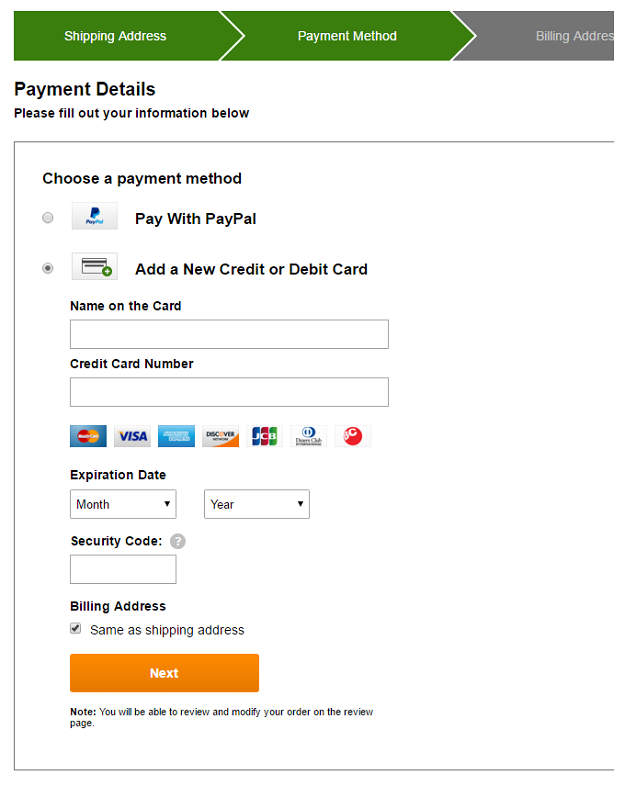 7. Place the order. Click the "Place Order" button if you are satisfied with everything about your order. You still can cancel your order at this point. Your order will typically be processed the next day and you will not be able to modify your order. If you change your mind, make sure you do as soon as possible.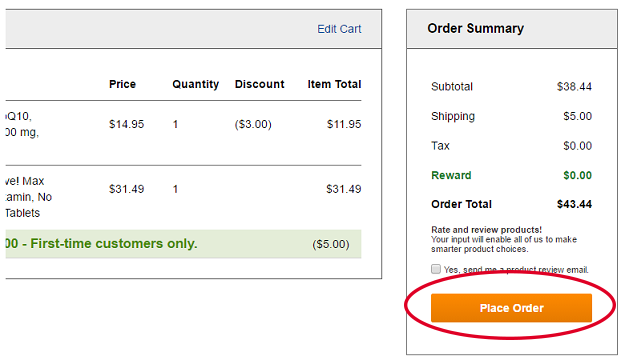 You will get the thank you message shown when you have successfully placed your order. iHerb will send you a confirmation email to the address that you used to create your account.

Tips: After your first order, you will receive a coupon code which you can share with anyone you want: relatives, friends, and family. Each time they use your code, you will earn credits which you can later use to buy things on iHerb.com.
Be healthy with iHerb.com !!